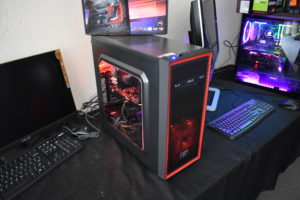 $899 Gaming PC
Intel i3 8th Gen 8100 (Quad Core) processor, Nvidia Geforce 1060 video card, 250GB SSD (solid state hard drive), 8GB RAM, Windows 10, in a gaming case with clear side panel.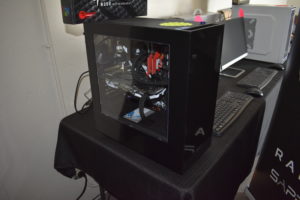 From $1,399 We offer high quality gaming computers!  Currently featuring Intel i5 8600k (Six core) Processors , liquid cooled, with 16GB of DDR4 Memory, 250GB M.2 western digital black solid state hard drives & Nvidia Geforce 1060 Video cards! All Pcs come with 3 year warranties! We use quality full ATX motherboards & EVGA bronze or gold power supplies.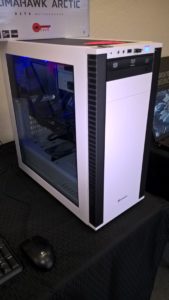 For $1,599 currently you can own this beautiful high end gaming PC.  Very fast, and very clean!  White & Blue theme.  This is running the Intel i7-8700K Processor, liquid cooled, with 16GB DDR4 Memory, 250GB Solid state hard drive, and a powerful Nvidia Geforce 1070 (8GB) video card.  This build now comes with the NZXT S340 white case (no dvd drive)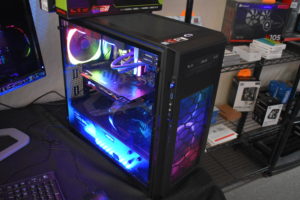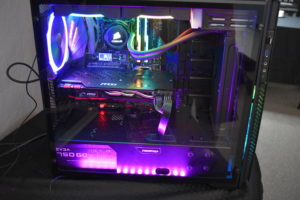 $2,499 – The 'RGBeast' , for RED-GREEN-BLUE BEAST!  This has all the good stuff!  This has one of the fastest solid state hard drives, processor, and video cards on the planet!
Phanteks Enthoo Pro Mid-ATX Case
Intel i7 8700K Processor
CORSAIR Hydro Series H110i Extreme Performance 240mm Liquid CPU Cooler
Geforce 1080 8GB Video Card
G.SKILL TridentZ RGB Series 16GB DDR4 3200
Samsung 960 500GB M.2 SSD
ASUS ROG Maximus X Hero Z370 Motherboard
(5) NZXT 140MM RGB Fans w/ HUE Controller
EVGA 750 GQ Power Supply
DVD Burner