I'm sorry, we are currently out of Toughbooks, and used laptops at the moment.  Everyone working at home has put a shortage on used laptops.  We are trying to get more!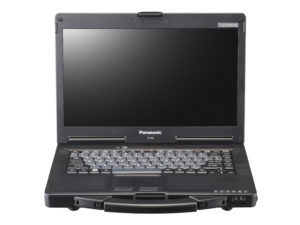 Panasonic Toughbook CF-53.  Very fast laptops, all with solid state hard drives. These are heavy duty laptops that can take abuse!  I call them the immortal laptop, as they don't seem to ever die!  Water & fire proof for starters.  These have Intel i3 or  i5 Processors, 4GB, 8GB or 16GB of RAM, 120GB SSD, 250GB SSD, 500GB SSD, or 1TB SSD drives.  Windows 10 , DVD burners, good batteries plus a 1 year warranty.  These range in price from $299 to $699.
$299 – Intel i3 Processor, 4GB RAM, 120GB SSD, windows 10.  $699 – Intel i5 , 16GB RAM, 1TB SSD, Windows 10.